Our first bundle from PEAR Stories!  Jane, Trevon and I joined forces to co-write a crazy encounter for five women at one amazing strip club.  Combining Debbie's Big Black Surprise, Laura's Double Trouble, and Shelly, Jen, and the Six Black Men, to create The Bachelorette Party.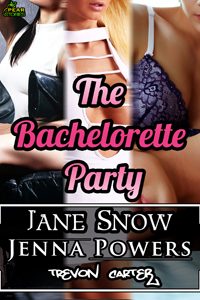 The Bachelorette Party
One bachelorette, four close friends, and three hot erotic stories at a seedy male strip club full of big black men. Debbie, Laura, Shelly, Joan and Jen all have an intense experience in the arms of massive ebony men. This is one crazy bachelorette party that will never be forgotten. This bundle includes stories by Jane Snow, Jenna Powers and Trevon Carter!
Debbie is looking to have a quiet bachelorette party but her friends, Laura, Jen, Joan and Shelly have something else in mind. Her four friends decide to take her out on a crazy night at a seedy male strip club, but as each of them see the powerful black strippers, the crazy night becomes an insatiable one! This bundle includes:
Debbie's Big Black Surprise by Jane Snow
Debbie's bachelorette party is here and her friends have quite the surprise for her! They all take her out, making her think she's going to go clubbing one last time, but instead, they head over to a quite seedy part of town. Her friends take her to a male strip club far on the outskirts of the city!
The group of girls head in to see massive, muscular men showing off their gleaming sexual bodies under blinking lights and thunderous roars of music. They meet one of the owners of the strip club, who invites them into a special room to celebrate Debbie's big party.
As the lights grow dim in the room they're in, Debbie and the others excitedly wait. When two big black strippers dressed as African tribesmen appear, the girls get a taste of what's to come… But as the final largest stripper shows up wearing a tight fitting spandex costume, they're left speechless.
Debbie's little party is about to become one amazing big black surprise!
Laura's Double Trouble by Jenna Powers
Laura and Joan have meticulously planned their friend, Debbie's, bachelorette party and start the night off with a bang at a strip club full of big black men. They watch as Debbie is toyed with by a massive black man but before things get hot and heavy, they're asked to leave the private room. Laura can't help but feel the heat between her legs spread rapidly through her as she's led out by one of the muscular strippers named Hammer.
Before Hammer leaves Laura and her friends at a table, she grabs his attention and asks if she can get a private show. Hammer nods and takes her off to a darkened section of the strip club where Laura can hear moans beneath the heavy music filling the club. He takes her into a small little alcove covered by a curtain and starts the private showing.
As Laura excitedly interacts with Hammer and his big black member, Joan and another stripper stumble into the alcove. The two are stunned at first, but they're faced with double trouble as the two big black strippers give them an amazing show!
Shelly, Jen and the Six Black Men by Trevon Carter
Shelly and Jen nervously left their bachelorette friend, Debbie with a massive black man to have a private strip show. As they were led off, Jen's sister Joan, and their friend Laura both disappeared to the back of the club. Shelly and Jen are left to handle themselves as a tall, athletic black stripper, named Jordan, helps them to another room.
The two ladies are treated to a show of their own as three stocky, well built black men dressed as African tribesmen enter the room. Another set of black men enter, almost the exact opposite, tall, lean and muscular, wearing jerseys and dressed as basketball players.
The six big black men surround the two ladies and each give a different performance, showing off their rather impressive rods. When Jordan pulls out a blindfold and has Shelly and Jen interact with an exciting game to "guess the member", things start getting hotter… and wetter!
The first ever bundling of stories by PEAR Stories!
Available today at: