Our first bundle from PEAR Stories!  Jane, Trevon and I joined forces to co-write a crazy encounter for five women at one amazing strip club.  Combining Debbie's Big Black Surprise, Laura's Double Trouble, and Shelly, Jen, and the Six Black Men, to create The Bachelorette Party.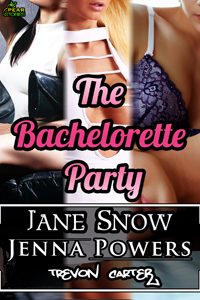 The Bachelorette Party
One bachelorette, four close friends, and three hot erotic stories at a seedy male strip club full of big black men. Debbie, Laura, Shelly, Joan and Jen all have an intense experience in the arms of massive ebony men. This is one crazy bachelorette party that will never be forgotten. This bundle includes stories by Jane Snow, Jenna Powers and Trevon Carter!
Continue reading New Bundle Release – The Bachelorette Party