Sup ya'll, Trevon here with a new release.  My contribution to the Bachelorette Party team up with Jenna and Jane.  It's about to get rowdy and hot up in herrrrrrrrrr!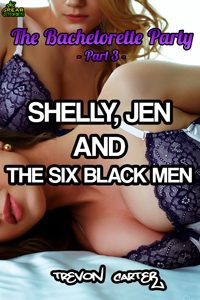 Shelly, Jen and the Six Black Men
The Bachelorette Party Part 3
Shelly and Jen nervously left their bachelorette friend, Debbie with a massive black man to have a private strip show.  As they were led off, Jen's sister Joan, and their friend Laura both disappeared to the back of the club.  Shelly and Jen are left to handle themselves as a tall, athletic black stripper, named Jordan, helps them to another room.
The two ladies are treated to a show of their own as three stocky, well built black men dressed as African tribesmen enter the room.  Another set of black men enter, almost the exact opposite, tall, lean and muscular, wearing jerseys and dressed as basketball players.
The six big black men surround the two ladies and each give a different performance, showing off their rather impressive rods.  When Jordan pulls out a blindfold and has Shelly and Jen interact with an exciting game to "guess the member", things start getting hotter… and wetter!
Available now at: