The Realms of War wages on, but there are still stories from afar to tell.  While the powerful Horde continues to terrorize the lands, their power has also corrupted allies of the Humans.  In a small Alliance outpost, seven Dwarves are about to show how corrupt they can get…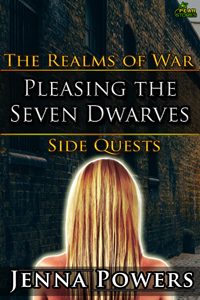 There are murmurings of the Horde's resurgence in the Human kingdom of Havad. Lisa, a member of the Storm Guard is out with a fellow soldier in a bar, having a good time when she sees Dwarves eyeing her from a nearby table. Michael warns her of a rumor he's heard of women being unable to contain their lust with the touch of a mysterious potion made by Goblins.
He's even heard that other races have begun to turn their backs on the Alliance, instead opting to take batches of the potion and help the Horde. Lisa shrugs it off as a rumor but can't help feel that the Dwarves are paying more attention than needed on her. When Michael informs her that he has to head out to meet a date, she declines his offer to escort her back to the barracks. She instead opts to have a few more drinks at the bar.
Once Michael is out, the seven Dwarves approach Lisa and attempt to coax her into a little party of their own at a nearby inn…
Available today at: