A new release and a start to a new trilogy… Doctor Insatiable!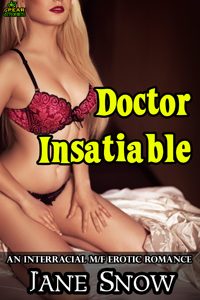 Doctor Insatiable

Doctor Laura Hood is not looking forward to another hectic day at the hospital when her coworker stops by. He asks if she can take one of his patients due to a double booking made by one of the nurses. She reluctantly agrees on the condition that he owed her one in return.Laura is surprised When her nurse walks in with a huge ebony man with a statuesque body. Lamar is his name and he's got a bit of pain in his lower abdomen. She runs her hand along his powerful muscular abs, and then lower… and lower… until he has to pull down his pants. Even as a Doctor, she's stunned at the sheer size of his manhood.
When its time for her to perform a closer examination, she get's up close and personal and things get hot and wild quick!
Available now at: