The Realms of War wages on, but there are still stories from afar to tell.  The Lustful Corruption is the latest addition to The Realms of War Side Quests!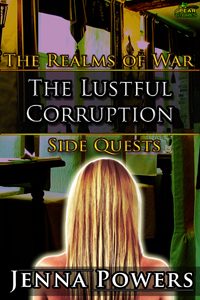 Theresa and Elise are nuns that live in a peaceful little kingdom that has yet to experience the Horde. When the beastly army reaches the nigh impenetrable walls surrounding the kingdom, they, along with the other nuns grow concerned. As much as the wall is meant to keep outsiders from coming it, it also prevents insiders from moving out.
When the armies of the Horde manage to break through the heavy entrance doors of the wall, Theresa and Elise flee with the nuns. There are tunnels within the kingdom that were in the middle of being built to act as emergency exits. The two hope that there is a chance that at least one of them was finished.
However, as they venture out, bottles and bottles of clear potions break around them. When they are surrounded by Orcs and Goblins, Theresa and Elise feel intense feelings of lust as they stare at the muscular monsters. They bargain with the beasts to allow the other nuns to go, in exchange for giving the Orcs and themselves what their burning, aching loins want…
Available today at: