Jenna here with another continuation of The Realms of War.  After near constant fighting and barely any rest, our heroes try to stand against Lord Lazarus once more.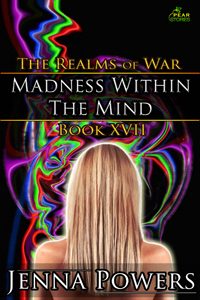 Aewyn and the other survivors planned to take out Lord Lazarus while he was busy fighting the Human Empire, however, on the day that they are set to proceed, she doesn't wake. Dharazim finds that she's actually in a magical coma and enters her mind to try and bring her back. While Robyn tries to argue, Dharazim does not listen and falls into a deep sleep next to Aewyn.As Robyn, Tirador, Rick and Uluk wait, Dharazim searches deep within Aewyn's mind, only to find a dark presence following her steps. While she's able to find Aewyn, she's unable to convince her to join her and is instead clasped within the tentacles of a powerful Krakenos!
The Druid's virginity is teased by the powerful tentacles as Aewyn is led through the madness within her own mind. At the same time, Lord Lazarus' powerful Horde begins to siege the Human Empire, readying to physically capture Aewyn and the rest of the survivors. Will the powerful Pit Lord finally claim victory?
Available today at: