Hey!  Continuing on in the multi-author bundle we're doing.  Kicking off another hot part of The Bachelorette Party.  The second part focuses on Debbie's friends, this time with Laura!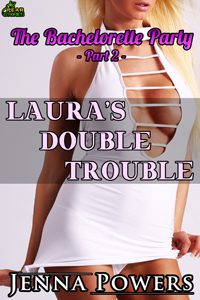 Laura's Double Trouble
The Bachelorette Party Part 2

Laura and Joan have meticulously planned their friend, Debbie's, bachelorette party and start the night off with a bang at a strip club full of big black men. They watch as Debbie is toyed with by a massive black man but before things get hot and heavy, they're asked to leave the private room. Laura can't help but feel the heat between her legs spread rapidly through her as she's led out by one of the muscular strippers named Hammer.
Before Hammer leaves Laura and her friends at a table, she grabs his attention and asks if she can get a private show. Hammer nods and takes her off to a darkened section of the strip club where Laura can hear moans beneath the heavy music filling the club. He takes her into a small little alcove covered by a curtain and starts the private showing.